The Centre for Entrepreneurship Development, Madhya Pradesh globally acclaimed as CEDMAP has been functioning progressively and incredibly for over three decades. The organization has set a benchmark in skill development and entrepreneurship evolution as a diligent and significant hand holder.
THE FRAMEWORK OF CEDMAP
CEDMAP has been prominently fostered by the State Government of Madhya Pradesh and Central Financial Institution. Although it has a staunch endorsement of a leading bank of the state too it still stands apart as an autonomous body and not-for-profit institution. It was established in the year 1988 and registered under the Firms & Societies Act 1973. The organization has accomplished gigantic success in the field of entrepreneurship development activities for the upliftment of society in the States of Madhya Pradesh (MP) and Chhattisgarh (CG).
CEDMAP is an ISO 9001:2015 certified institution. Due to this, it has the credibility of a premier institution for undertaking numerous entrepreneurship skill enhancement as well as livelihood development activities in MP&CG. The governing body of the institution comprises bureaucrats, heads of nationalized banks of the state, central and state financial institutions as well as entrepreneurs, etc. The Chairman of the organization is the Principal Secretary, Department of Micro, Small & Medium Enterprises, Govt. of MP. It acts as the Nodal Agency for Departments of Micro, Small, and Medium Enterprises, Govt. of MP.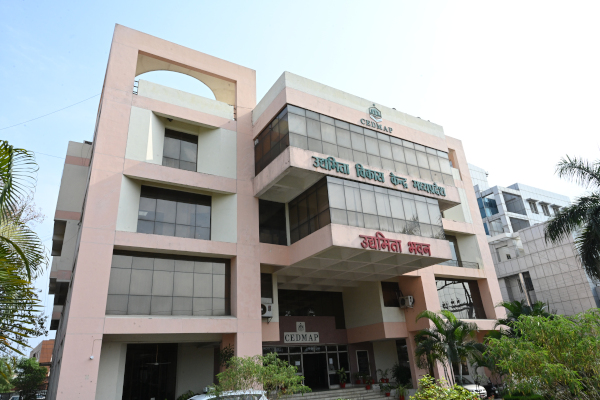 HIGHLIGHTS
CEDMAP is also empanelled as a Technical Implementation agency (TI) with TRIFED, IGTR & KVIC under the SFURTI Scheme. CEDMAP is an affiliated training partner of the National Skill Development Council (NSDC).
CEDMAP has also signed MoUs with eminent organizations to utilize respective resources and competencies so that the outcome of the training projects can be improved. The list of organizations is mentioned below:
MoU with Barkatullah University, Bhopal for Capacity Building of Faculties, Employability expertise of Students, etc.
MoU with Rani Durgavati Vishwavidyalaya Jabalpur for providing Entrepreneurship & Skill Development for Students and Faculty.
MoU with Indira Gandhi National Tribal University (IGNTU), Amarkantak for Capacity Building of Faculties, and occupational training of Students.
MoU with MP Council of Science & Technology (MAPCOST) for Capacity Building of Faculties, occupational training of Students.
MoU with the National Institute of Micro Small & Medium Enterprises (NIMSME) for providing prompt financial assistance to budding entrepreneurs trained by CEDMAP and utilizing the mutual strength of both organizations.
MoU with Atal Incubation Centre ARTECH for Skill Upgradation Training of Existing Entrepreneurs (MSMEs).
MoU with MP Police Academy for providing exceptional soft skill Training and other relevant training in areas applicable to MP Police and their Welfare activities.
MoU with Apollo Med Skills for Association in Skill Training for Healthcare Domain.